Bioindustrial Technologies
CÉPROCQ 's expertise allows you to offer the methods best suited to your requests for extraction of high value-added compounds:
Development of every step of a pilot-scale extraction process, from preparation of the raw material to forming and characterization of the extract;
Comparative studies of different pilot-scale extraction methods (example: comparison of an oil from marine biomass extracted by Soxhlet and by supercritical fluids);
Valorization of extraction residues to develop processes of conversion and transformation to zero residue (example: extraction of bioactive molecules from a residue resulting from extraction of an algal oil.)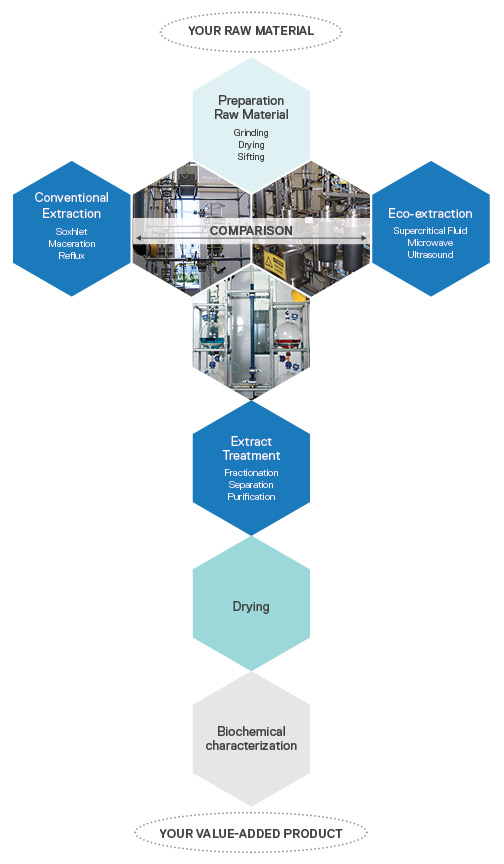 Conferences
Since 2012, CÉPROCQ has had an NSERC Industrial Research Chair for Colleges in Agroforestry Extraction, directed by Yacine Boumghar, Director of CÉPROCQ. This Chair is a centre of convergence of knowledge of agroforestry extraction and an incubator of technological solutions to meet the needs of the community and industrial players.
In relation to the Chair, CÉPROCQ researchers are called on to make presentations and moderate many conferences.
Benchmarking of Lignocellulosic Biomass Pretreatment: Performance and Energy Requirements
International Forest Biorefinery Summit, Montréal, February 2015
C. Hertz,M. Benali,Y. Boumghar, J. Jeaidi
Anaerobic Fermentation of Sugar-rich Streams to Simultaneously Produce Biobutanol and Organic Bio-acids: Mixed Sugar Model and Yellow Birch-based Sugars Case Studies
International Forest Biorefinery Summit, Montréal, February 2015
A. M. Restrepo, N. El Mehdi,Y. Boumghar, M. Benali

Supercritical CO2 as an innovative and viable process
Colloque chimie verte et procédés durables (Colloquium on green chemistry and sustainable processes), Boucherville, October 2014
M. Sarrazin,Y. Boumghar

Fungal bioconversion of betulinol into betulinic acid
Colloque sur les champignons forestiers et autre PFNL : innovations et perspectives (Colloquium on forest mushrooms and other NTFPs: innovations and perspectives), La Pocatière, August 2014
S. Abdeladim,Y. Boumghar, M. Sarrazin,A. Vialle, N. El Mehdi
Micronization of Nordic Berries by Particle from gas saturated solution (PGSS) combined with drying
14th European Meeting on Supercritical Fluids, Marseille, France, May 2014
Y. Boumghar,M. Benali

Extraction processes
Séminaire sur les végétaux (Seminar on plants), UQAC, Chicoutimi, April 2014
Y. Boumghar

Development of ecoextractions for valorization of yellow birch bark
Atelier des experts du réseau Trans-tech (Workshop of Réseau Trans-tech experts), Québec, April 2014
N. El Mehdi,M. Sarrazin,Y. Boumghar

Potential of yellow birch bark, extractable forest products: a promising avenue for the Québec forest industry
Trois-Rivières, February 2014
Y. Boumghar

Barre latérale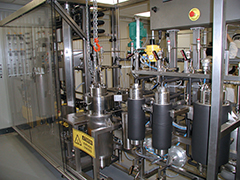 Pilot units for supercritical extraction and fractionation
CÉPROCQ has 2 large-scale supercritical extraction units: a pilot unit allowing treatment of up to 2 kg of raw material and a production unit allowing treatment of up to 50 kg of raw material.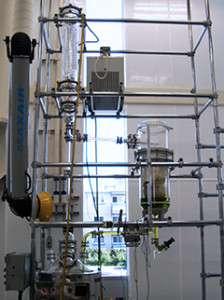 Pilot units for conventional extraction (Soxhlet, maceration)
For your needs, CÉPROCQ personnel have the equipment and experience to perform different conventional extraction setups (Soxhlet, maceration, reflux).  CÉPROCQ is equipped with a pilot hall 10 metres high, allowing installation of pilot equipment capable of treating several kilos of raw material. Example in this photo: Soxhlet pilot unit capable of treating 5 kg of raw material.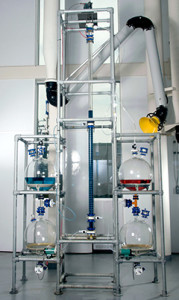 Pilot units for treatment and forming (liquid-liquid extraction, spray dryer, continuous flow centrifuge)
In most bioindustrial processes, the products obtained after extraction must be treated to obtain a pure extract with the properties sought. CÉPROCQ has several pilot installations responding to this essential stage in today's bioindustrial processes (liquid-liquid extraction, spray dryer, continuous flow centrifuge, etc.).