NEWS
Presence at the Innovation Forum on the Bioeconomy in Quebec (FIBEQ 2019)
The CÉPROCQ will be present on June 18 and 19, 2019, at the first Innovation Forum on the Bioeconomy in Quebec, presented by the Consortium for Research and Innovation in Industrial Bioprocessing in Quebec (CRIBIQ) to be held in Trois-Rivières.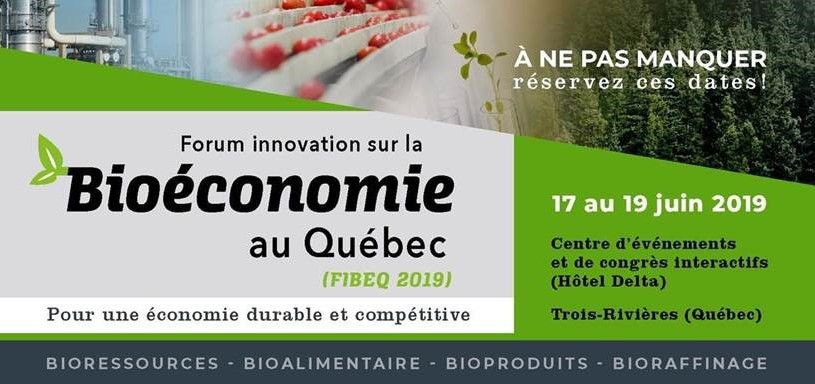 Presence of CEPROCQ in shooting Investissement Québec for the 2018 Manufacturing Initiative
Watch the video
Canada's Minister of Science visits CÉPROCQ
The Honorable Kirsty Duncan, Canada's Minister of Science, visited the College de Maisonneuve at the Center for Study of Chemical Processes of Quebec (CÉPROCQ) on Thursday, April 27. Ms. Duncan met with the Executive Director of College de Maisonneuve, Ms. Malika Habel, before proceeding a full visit of CÉPROCQ laboratories along with director of CEPROCQ, Mr. Yacine Boumghar.
Ms. Duncan meet with researchers and students in various laboratories and pilot units of the CÉPROCQ, which are unique in Canada in supercritical CO2 extraction: laboratory units, a four-liter pilot plant and a fifty-liter pre-commercial unit. CÉPROCQ researchers presented the various research projects carried out in bio-industrial and environmental technologies. The director of the center explained to Ms Duncan the mandate of CÉPROCQ, which has been positioned, since its establishment, on the scale-up of green processes for biomass valorisation and support companies up to pre-commercial stage.
Ms. Duncan was very impressed with the quality of CÉPROCQ's work and equipment. She was also very interested in the College's two other research centers, the Institute of Packaging Technology and Food Engineering (ITEGA) and the Institute for Research on Professional Integration of Immigrants.
This visit enabled her to discover the three college centers for technology transfer (CCTT) at College de Maisonneuve, members of the Reseau Transtech, working tirelessly to bring research and training closer together in order to train the next generation of scientists and support development of SMEs.
Signing a framework agreement with Algerian Business Leaders Forum
On Wednesday, April 12, Ms, Malika Habel, Executive Director of College de Maisonneuve, signed a framework agreement with Mr. Mehdi Bendimerad, Vice-President of Algerian Business Leaders Forum (FCE) and Chair of the International Relations Committee.
This agreement took place in the framework of a visit by FCE delegation led by its president, Mr. Ali Haddad. The delegation attended a presentation of the College and then visited the laboratories of Campus 6220 Sherbrook where research and training activities take place. Ambassador of Canada to Algeria, Ms. Isabelle Roy, and Consul of Algeria in Montreal, Mr. Abdelghani Cheriaf were accompanied the delegation for this visit.
Mr. Yacine Boumghar, Director of the Center for the Study of Chemical Processes of Quebec (CÉPROCQ), presented his project of Automated Processing Institute (IPA) to the members of the FCE. Mr. Boumghar, who is well aware of Algerian and Canadian training and research systems, proposed to FCE members a project that aims to:
Train qualified technicians for a competitive and innovative industry;
Create a positive environment for effective and inspiring learning;
Provide internationally recognized degrees and certifications;
Offer training and research-innovation to support companies in their development.
The objectives of this framework agreement are to promote exchange of useful knowledge and expertise in the fields of research and innovation, and development of post-secondary technical and vocational training initiatives to support companies in their development.
Business Leaders Forum (CFE) is the largest Algerian employers' organization. The Forum brings together more than 3,000 companies. The companies have a turnover of more than 35 billion US dollars and employ more than 300 000 employees.